How to Find 1000x Returns in Internet Money
The 1000x Group
I've spent over 8 years and $2.5 million learning everything about this space. Now, I want to teach you everything I know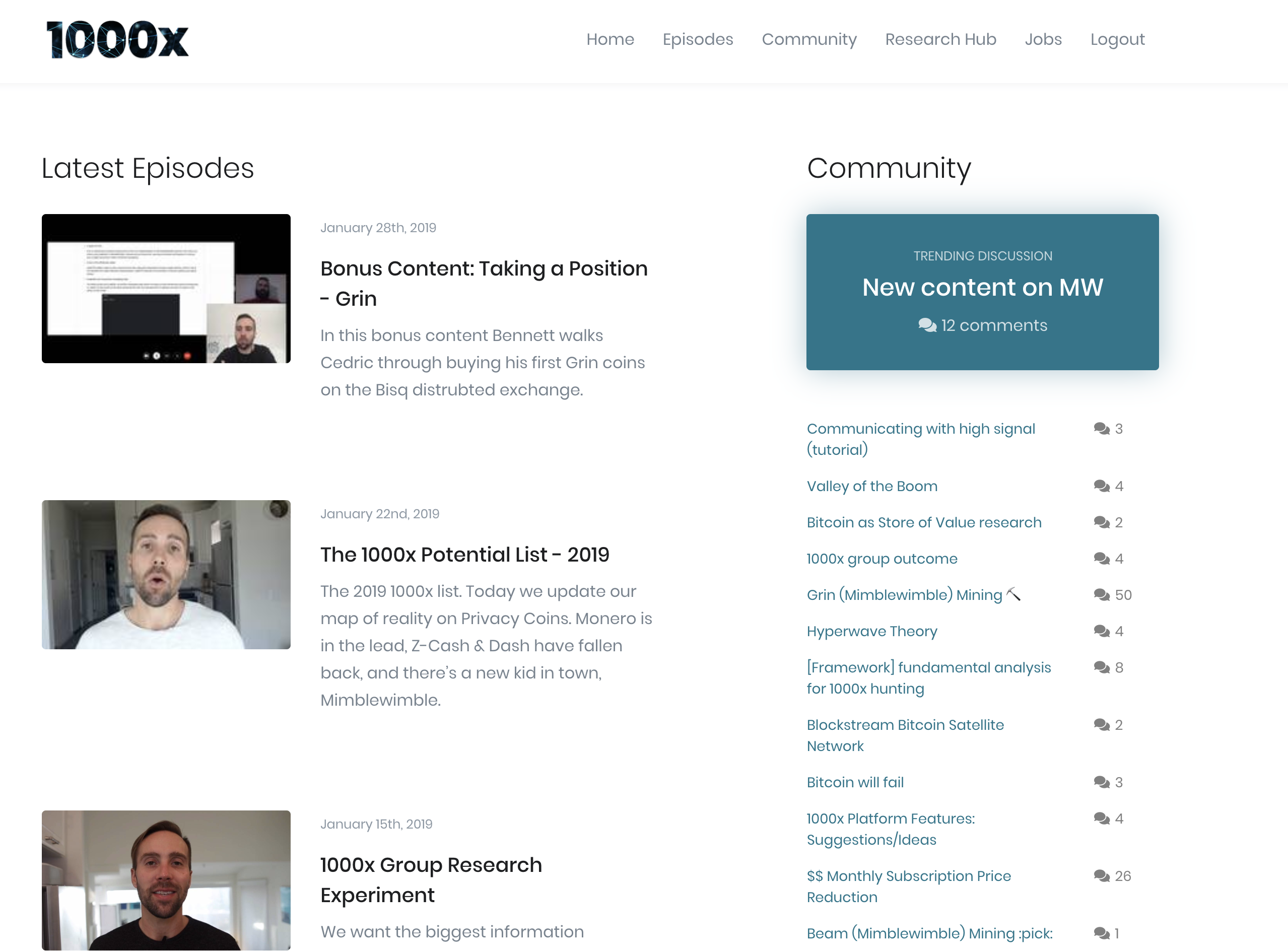 What You Get
The Monthly Genius Newsletter
We are going to go through specific ICOs/Tokens and provide deep analysis of the project. Our team will put each ICO/Token through our rigorous framework AND we will also be talking (and recording the conversations) with the smartest geniuses we know in this space and getting their valuable input. You will learn everything we do.
Hours of in-depth foundational course materials
We've cut out all the fluff and given you Cedric's exact framework for eliminating 90% of all ICOs. We start with the very basics (looking for high returns only; tracking network growth) then ramp up quickly to more advanced topics (spotting super dominance; generating vs. capturing value). All of it fully recorded w/ "cheat sheets."
Access to Cedric's Network
This will be your "unfair advantage." This network took Cedric over 7 years and $2.5 million to achieve. As part of the 1000x Group, you'll receive the exact same information advantage he now has. Not having this advantage is likely much more expensive than the cost of membership.
Enrollment closes in
There will be people who get smart and make life changing long-view investments and there will be people who don't.
Which group will you be in?
Do you offer a trial or refunds?
Considering the nature of the product (you access all the material right after signup), we do not offer a trial or refunds.
Can I cancel at anytime?
Yes, but people who cancel will not be allowed back in the group.
Does my membership automatically renew?
Yes, your credit card will be charged automatically every month.
Can I get a discount?
We offer discounts for YC companies and students of Startup School.
---
Disclaimer
The information provided in 1000x Group videos, emails, and accompanying material is for informational purposes only. It should not be considered legal or financial advice. You should consult with an attorney, financial advisor, or other professional to determine what may be best for your individual needs.
1000x Group does not make any guarantee or other promise as to any results that may be obtained from using our content. No one should make any investment decision without first consulting his or her own financial advisor and conducting his or her own research and due diligence. To the maximum extent permitted by law, 1000x Group disclaims any and all liability in the event any information, commentary, analysis, opinions, advice and/or recommendations prove to be inaccurate, incomplete or unreliable, or result in any investment or other losses.
Content contained on or made available through the website is not intended to and does not constitute legal or investment advice and no advisor-client relationship is formed. Your use of the information on the website, emails, and video is at your own risk.
Join The 1000x Group
Enter your email to continue.